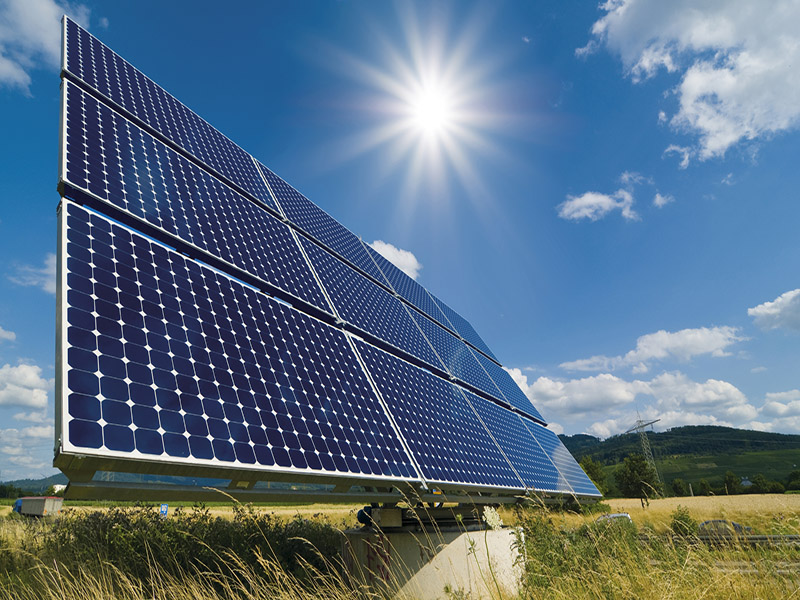 13 Feb

News that Impacts our Cooperative: Catching Some Rays

How Cooperative Energy is Transforming Mississippi's Energy Landscape

Converting sunlight into electricity has been possible for years, but solar power generation is quickly becoming a common form of energy production across America.  In Mississippi, solar installations are being constructed on an unprecedented scale as this clean form of energy is becoming an important part of our energy mix.

Some may remember solar power as a feature of wristwatches and calculators, but advances in technology and favorable energy policies are pushing solar power into the mainstream – and on a much larger scale.

"This is not an experimental form of energy generation.  This is proven technology that works," said Jim Compton, Cooperative Energy's President and CEO.

Cooperative Energy approved its first Member-owned residential solar systems in 2010, and began operating five solar-powered electrical stations in 2016 in Taylorsville at Southern Pine Electric, Lucedale at Singing River Electric, Kiln at Coast Electric, Greenwood at Delta Electric and Lyon at Coahoma Electric.  These earlier solar operations have allowed Cooperative Energy to evaluate and test the efficiencies of solar generation.  The five half-acre solar sites operate approximately 375 solar panels each, but the smaller stations that produce 100 kilowatts or less were just a warm up to a much larger main event.

Cooperative Energy partnered with Origis Energy USA to build one of the region's largest solar fields.  Origis Energy is a specialized developer of utility-scale and distributed generation photovoltaic (PV) projects throughout the Americas and Europe.

The new 540-acre solar facility, known as "MS Solar 3," is located in Lamar County near Sumrall and is comprised of 208,000 solar panels and equipped with single-axis trackers to follow the sun as it moves throughout the day.  Operational at the end of 2017, the Sumrall facility generates enough electricity to power roughly 10,000 homes.  Cooperative Energy purchases all power produced by the facility built by Origis Energy.

Compton said the cooperative is including solar as a part of its energy mix because its Members expressed a desire for green energy.  Cooperative Energy and its Members – known as the "Power of 12" – provide electricity to 423,000 Members across 55 counties in the state.  The cooperative has a diverse energy portfolio that includes natural gas, coal, nuclear, hydropower and solar.

As a deep south state, Mississippi is geographically situated to receive an abundance of sunlight.  Compton said adding solar also makes sense for Cooperative Energy as it will enable the cooperative to diversify its energy generation portfolio while lessening the cost impact to Members.  "Our mission is to provide reliable and affordable energy," Compton said.  "Our Members have asked for more renewables and adding solar as a generation source is friendly to the environment we all live in."

The basic process of using the sun to generate electricity was developed long ago.  The most common method of converting sunlight into current is a process known as 'photovoltaics.'

Photovoltaic power generation is made possible by solar panels composed of many cells containing a photovoltaic material.  Simply put, a solar cell is able to convert the energy of light into the energy of electricity.

And the technology is getting better.  Because of the growing demand for renewable energy sources, the manufacturing of solar cells and photovoltaic arrays has advanced considerably in recent years.

Solar energy is the most abundant energy resource on Earth.  The sun produces more energy in one hour than the earth uses in an entire year.  Yet, solar accounts for only about one percent of the electricity generated worldwide.  The International Energy Agency projects that by 2050, solar will account for about 16 percent of electricity production.

Is the solar the path that leads to more abundant, reliable and affordable energy?  The answer to that questions is coming into view as we learn more about this form of energy.  And cooperatives like Cooperative Energy are leading the way.