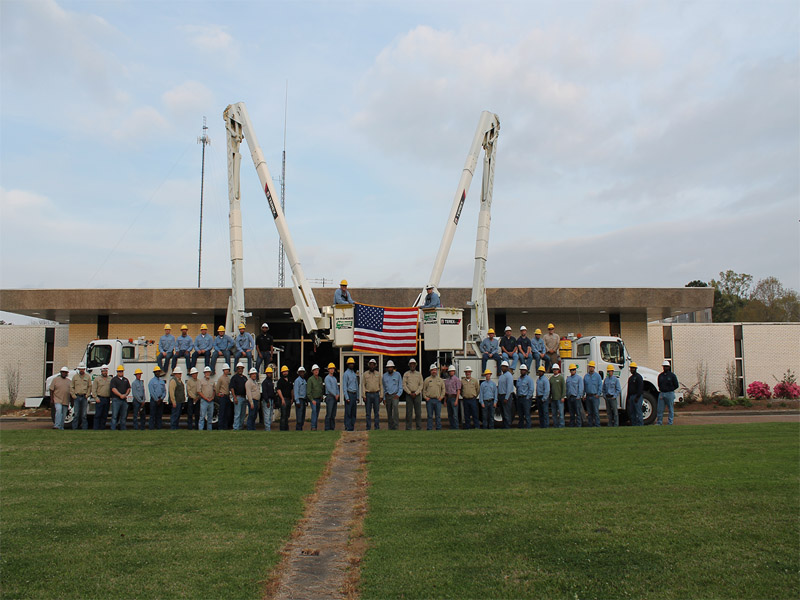 09 Apr

Southwest Electric Celebrates 2018 Lineworker Appreciation Month

Each year, during the month of April, electric cooperatives across America set aside time to recognize our lineworkers.  These workers put their lives on the line every day to make sure that electricity reaches our Members.

It takes many departments at Southwest Electric to make sure that our Members have the electricity they need to power their homes and businesses — construction linemen to install the poles for new service, right-of-way workers to keep the power lines clear of trees, staking technicians to plot out the best way to install new service, electrical engineers to keep the substations online, mechanics to keep the trucks running, meter technicians to install the proper equipment and warehouse employees to make sure everyone has the materials they need.

These employees are on standby 24 hours a day, 7 days a week, 365 days a year.  They often miss family events such as birthday parties, Thanksgiving dinners, athletic games, Christmas mornings, band concerts and more.  We often say, "When the lights go out, so do they."  It doesn't matter if it's 2:00 on a frosty Tuesday morning, 11:00 on a rainy Friday night or 5:00 on a hot Sunday afternoon.  Our lineworkers answer the call because they know that this is not just a job; it's a way of life.

All of our lineworkers wear personal protective equipment to do their jobs safely, but the one thing they have in common is that they wear hard hats.  Our theme for the 2018 Lineworker Appreciation Month is Heroes Wear Hard Hats.  So, the next time you see our lineworkers, please thank them for a job well done and use #HeroesWearHardHats and #ThankALineworker on social media to show your support.

Follow Southwest Electric on Facebook, Twitter and Instagram.