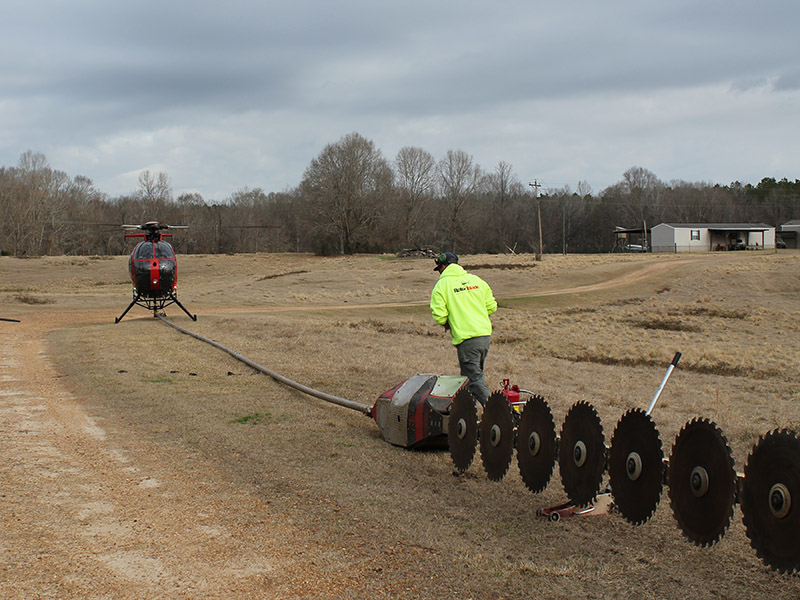 16 Mar

Contractor Cutting Right-of-Way in Adams and Jefferson Counties by Helicopter

Southwest Electric has extended the contract with Rotor Blade to trim the trees around power lines in Adams and Jefferson counties using a helicopter.

The helicopter trimmed trees in Wilkinson County in February and early March.  It will now move on to the Washington and Church Hill areas in Adams and Jefferson counties.  The helicopter will concentrate the trimming in the hard to reach areas.  Crews from Delta Tree, another contractor, will remain in the area for several more months cleaning up debris and cutting areas that the helicopter cannot navigate.

"Many of the areas we service have rough terrain and are not accessible with a bucket truck," explained Jeff Mac Segrest, Right-of-Way Supervisor.  "Another issue we have is that many trees are taller than 60 feet and trimming creates a canopy effect above the power lines.  The helicopter can trim the entire tree, no matter its length."

"It is our hope that this trimming work by the helicopter will reduce the number of unexpected outages in the future," said Kevin Bonds, CEO/General Manager.  "Our goal at Southwest is to provide our Members with reliable electricity for their homes and businesses.  Maintaining the 40-foot right-of-way on our lines is key to reliability."

During this work by the helicopter, Members may experience blinks or short outages due to limbs falling on the lines.  Southwest Electric has linemen on standby in the area in the event of outages.  "We appreciate our Members' patience as Rotor Blade operates its helicopter in these areas," said Bonds.

If you experience an outage, please report it on the SmartHub app or call 800-287-8564.

Southwest Electric is a Member-owned electric cooperative based in Lorman, Miss, that provides power to over 25,000 meters in Adams, Amite, Claiborne, Copiah, Franklin, Hinds, Jefferson, Lincoln and Wilkinson counties. The cooperative is an equal opportunity provider and employer.